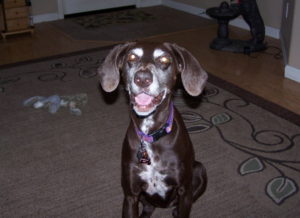 Princess Kona has found her castle! This sweet 9 year-old made herself very comfy at her foster home – so comfy, all involved decided it was the right place for her. Especially Kona! She has claimed all the best spots in the house, including the human bed, of course. This is one GSP that knows where she belongs. Congrats to the whole family!
Thank you to Feb, James and Jane, who all gave 
Kona
 a spot to stay on her journey to her forever home.
Adopted October 2014