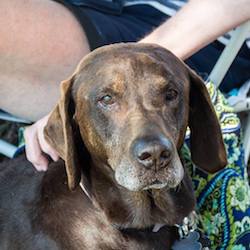 I wanted to let you know that Lorelei crossed the rainbow bridge this morning. She woke up yesterday unable to use her back legs, by today it was clear there would be no improvement. Dr. Metzger was on duty, for which we are extremely grateful.
We've learned something from all our dogs, but Lorelei's lesson was particularly timely. She showed us how to age graciously (I won't say gracefully, she was never that!). Despite whatever travails she'd suffered in the past, she was always ready to make a new human friend. When she was perky, she would enjoy sniffing her way through a nice level walk-no hills, please! When her energy was low, she did the things she loved best-lolled in the sun and watched tv from the couch. Even with only a few teeth, she enjoyed every meal and treat.
Probably mostly chocolate lab, she embraced her GSP brother, sharing her bed with him, and welcomed our daughter's Aussie when she came for a six-month visit! She showed us that trust and tolerance can make for a happy senior life. May we be so wise.
-Barbara & Keith