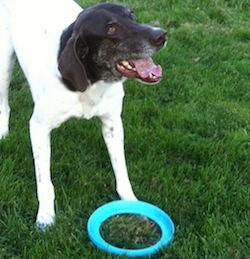 I lost my beloved Sancho on October 25th and life will never be quite the same again.
I didn't choose Sancho. He chose me – by jumping in my forerunner at the end of our first visit. "Time to go home!" he seemed to say.
Sancho taught me the true power of devotion and love. He came as a rescue with a bundle of anxieties and misbehaviors. Separation anxiety cost me many hoses, carpets, and other assorted objects – as well as my sanity! He never quite outgrew it, but it improved, as did his fear of basketballs. It took us years to bond, but in the end, he was the best of companions.
Sancho was Mr. Personality! He was known as "the neighborhood dog" and had trained my next-door neighbors to give him cookies whenever he would trot down and bark for them (which was several times a day!) His favorite thing was chasing the Frisbee, which had a hole in the center where he could put his head through. He also relished chasing dragonflies, hunting moles and had a love affair with a squirrel at the local park. The beach, where in a nanosecond he was a speck on the horizon, was the place he loved most.
I will miss the requisite belly rubs, his head in my lap in the mornings, having to stop constantly to smell bushes on a walk, seeing him contentedly laying in the sun and coming home to his wagging tail on my front couch – and plenty of kisses.
His loss is great, but his love was greater. Until the Rainbow Bridge, my friend. Rest and know I love you.
-Christine "Sancho's mom"