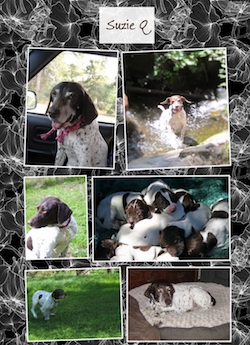 I accidentally came across petfinder.com while getting shelter information for my sister. I wasn't looking for another dog, but I typed in "german shorthaired pointer." Several listings came up, but one really caught my eye. I saw a scared little girl in a big chair. Her story went something like this: "My name is Suzie. I'm fat, my nipples hang, the breeder was going to euthanize me because he didn't want my puppies. I'm 3 years old and I already had 3 litters. I was mistreated……."
I felt so bad for her and wanted to help her, but she was way down in Fresno. I contacted the shelter anyway and they told me that she had been rescued. I found NorCal GSP Rescue and asked if they had Suzie. They said they did and she just had 8 puppies! I adopted Suzie a couple of months later.
Suzie was very shy, but she also had a goofy side that reminds me of Snoopy. I actually dreamt that she was tap dancing on stage with a top hat and cane. I always laugh when I think about that dream. I miss her so much, but I know that she's not alone. She's now running free with her friends Eddie, Sadie, Case, Annie (aka Vera), Rock (aka Jed), Dottie, Cyrus, Max, Rosie, Buffy (aka Lassen), Addie, Lorelei, Courtney, Rogue, & James Von Miller.
-Be back, little girl. MMM