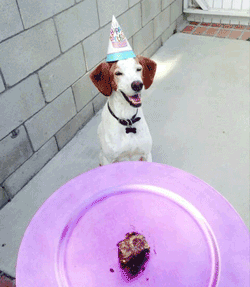 This is Jojo. His original name was Tango. He was an English Pointer adopted from GSP Rescue over 10 years ago. After contacting Wendy Hilton about our other GSP "Max" passing away, Wendy suggested we adopt Jojo, as he would be a perfect fit with our other pointer Rescue "Sadie/Doocy".
He was a very special guy. Never complained, never barked (unless he was playing), never ever growled, loved children… perfect!!!
This picture is of him celebrating his 11th birthday last month – May 1st, 2015. Until his last 2 weeks of his life, he never showed any signs of illness. I brought him to the vet due to his sudden loss of appetite. The vet did blood work and x-rays and found terminal cancer. He was suffering and would have died within the week. I made the most difficult decision to say goodbye.
R.I.P. -Sean & April Disbrow