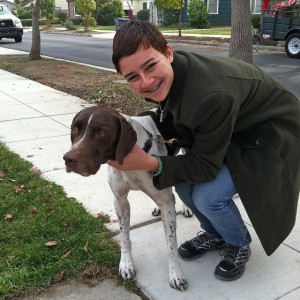 After a long wait, Rally has found the perfect forever home. Adopted to be a service dog for migraines (as well as a forever companion), he has already successfully alerted his new mom more than once to an impending migraine. As an official service dog, Rally can go everywhere with his new mom – to college classes, to the grocery store, to the library, everywhere! Since he struggles with severe separation anxiety, this makes his forever home the best match possible. Plus, he gets to have a regular "job", something that any working dog like Rally loves! This is a true rags to riches story for Rally – he's gone from shelter dog to service dog!
Adopted January 2014
It takes a village to help a dog like Rally, and we are fortunate to have the help of many people and providers (including donations, discounts, and gratis services). We'd like to take a moment to thank and acknowledge those who contributed to Rally's success.
We couldn't have done it without Rally's foster homes – John M made the long drive to get Rally from the remote shelter where they didn't even have an adoption program, and was the first step in getting Rally settled into a home environment. Then, Rally spent the next seven months until his adoption with Heidi M (with help from John S) where she gave him round the clock care and attention, both in terms of medical recovery from multiple surgeries and working with him tirelessly in regards to his extreme separation issues. A big thank you to Heidi for positioning Rally for success!
His medical providers included UC Davis, Adobe Animal Hospital, VCA Desert Animal Hospital, Carter Animal Hospital, Kreature Komforts, and Scout's House via Scout's Fund.
His behavioral providers included Malena DeMartini-Price at Ain't Misbehavin' Dog Training, Dr. Jeannine Berger at SF SPCA, and Alissa at The Puppy Professor.
And his many donors, sponsors, and Guardian Angels.
Thank you!
Click on his tag Rally below for a bit more about his journey.