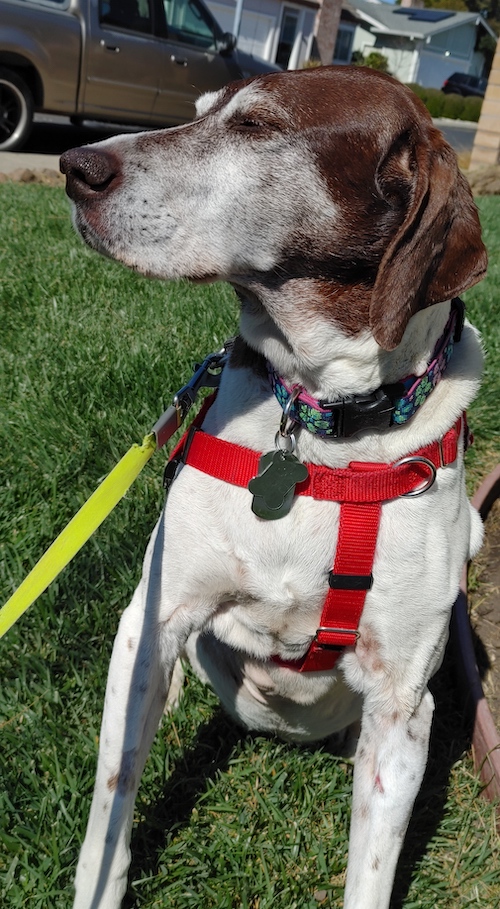 On 11/30/2021, Amber came to me. I was not sure about fostering or even adopting a senior dog. I just lost my other GSP tragically and was recently diagnosed with multiple sclerosis. Amber changed my mind but mainly my heart. She came home all lumped up, overweight (close to 70lbs), and full of confusion. Poor old girl seemed mistreated in every way possible before NorCal GSP Rescue scooped her up before she was to be put down. Confused so much she darted out my front door. Chased her for blocks😂. Amber would fight with the male in the house – food aggressive and very possessive over her things even the other dogs' things.
After months of rehab and  "home living," she lost 10 lbs. and she showed me her true self. Man what a wonderful girl (this is hard to write). So full of love and life. She loved her evening walks with her stepbrother and sister. Tail never stopped and she yearned and demanded my attention. On 06/21/2021 I officially added her to my pack.
In November 2022 she needed another lump (cyst) removed. Again the NorCal GSP Rescue came to her aid – I could not afford the surgery, I am on disability. She came home happier and ready for a walk. She healed.
On December 29, 2022, her poor heart gave out to all the surgeries and old age, filled with fluid. I held and kissed her as I told her I would see her again. I LOVE YOU AMBER!😥💕🙏🏽
–Juan Montes