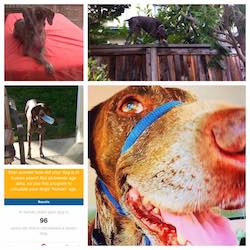 We said goodbye to Daisy, our 13-year-old #GermanShortHairedPointer. We rescued her from @NorCalGSPRescue about 12 years ago as a companion to Hans, our other #GSP that we also rescued from the same.
D-Dog, Crazy-Daisy, Looong-Beak, Houdini-Dog… She answered to many names over the years and was the best #FamilyDog anyone could ask for.
Insanely athletic, able to escape from any crate, and always ready with a smile, nudge, and lick, she was the subject of many stories and fond memories.
Daisy was infamous at every kennel in the tri-city area and my favorite story was the employees at #PetSmart Hotel returning every morning to find our hound-dog running crazy down the isles or walking on top of the rooms that were 12′ tall while Hans snored on his dog bed. After a few morning of finding her taking laps, they finally put her in a glass-enclosed room with a camera, where she was as good as a pup could be! I think she just wanted to see the people come & go, the cot and TV!
Nimble, we'd often hear people walking on the sidewalk by our side yard screaming as she would stalk them from the top of the 9′ fence! At the Parkmont house, our back neighbor would often come home to find Daisy and her Beagle sleeping on her bed with muddy paw prints and blankets/clothes everywhere!
She passed quietly and peacefully surrounded by Carey-Ellen, Alexa, Axel, Hans, and in Austin's arms.
Some will say that you were just a dog, but you were truly a core part of our #Family. Pedigree puts you at 96 in human years and you had a full life in our #ForeverHome and you will live in our hearts forever.
We love you Daisy and although we have much sadness; are happy that you are at peace and chasing everything that moves in #DoggieHeaven with bright eyes and like the #Puppy you always were!
-Anthony & Carey