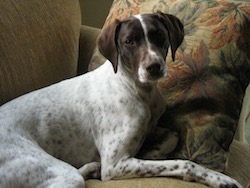 Delia was our much-loved companion for fourteen years. She ran like the wind and brought us constant amusement and joy. In typical GSP fashion, she had her quirks. She hated walking on grass and would only go on the edge of the lawn; yet never met a cow pie she wouldn't roll in. And why bother to point when you can climb the tree after that turkey?
Even though it seemed as if she lost her hearing as soon as that leash was unclipped and she ran ahead, she always circled back around to meet us. She's running ahead of us again but we're sure she will circle back when the time is right. It seems impossible to have a heart that is broken and full at the same time yet here we are.
Godspeed Miss D! We will never forget you.
-Bryn & Scott