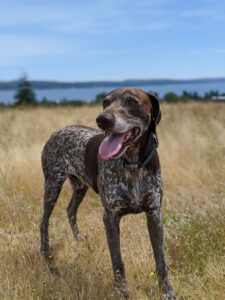 We are heartbroken that we had to say goodbye to Jackson on Wednesday. He passed away in our home, curled up between the two of us, wrapped in every blanket he loved and had commandeered from us over the last four years. Unfortunately, we found out on Monday that Jackson had a large tumor on his heart that had gone undetected during past and recent vet appointments. The cancer and tumor caused his health to rapidly decline over the course of just a few days. We're still in shock – he was only 9 years old. We had been carefully watching Jackson age with graying eyebrows and physically slowing down a bit over the last year, but up until this week, he was always such a happy, healthy pup. Prior to his diagnosis this week, we were sure we had years of adventures left with Jackson. This week has left us in utter disbelief and with indescribable sadness. Just this weekend we were making plans to incorporate his golden years into our family adventures. We were looking up dog trailers to attach to our bikes so that he could continue biking with us, and we recently purchased a rooftop tent to make camping off the beaten path with senior Jackson more comfortable.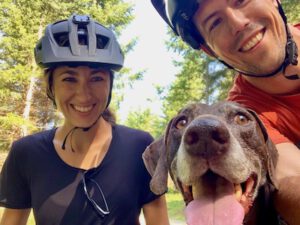 Jackson was truly perfect for us – he was such a sweet, loving companion and adventure buddy. He brought so much joy to our lives that it feels almost impossible to put into words how much he means to us, and how much he will be missed. As we've been going through pictures of him, we are constantly amazed and happy to be reminded of all the crazy things he was willing to do with us. He joined us on countless road trips, hiking, camping, cross country skiing, kayaking, paddle boarding, staying in backcountry cabins, and left so many mountain bikers in his dust on trails around Washington and Oregon. Of all the fun we shared, he loved mountain biking the most. Just the sound of the bike rack opening in our driveway made him ecstatic. He was so fast and watching him effortlessly glide alongside the bike was one of the most beautiful things for us to watch. At home he was constantly the center of our attention, wedged between both of us on the couch or in bed. He was included in every part of our life and a true companion that came with us everywhere – all car rides, adventures, hardware store trips, and dog friendly restaurants. People frequently stopped to give him attention and compliment us on how handsome, regal and sweet he was.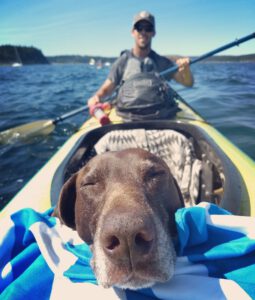 When we adopted Jackson, it was with a commitment that he needed a special level of guidance and attention – he was afraid of so many things, uncomfortable around other dogs, nervous, shy and unsure. When we adopted him, we weren't sure if he would ever be able to fully work through so many of his insecurities, but we hoped that by showering him with love, commitment and training, he would be able to experience a much happier life, which he surely deserved. The dog we lost this week was not the same dog we adopted four years ago – he was more confident, goofy, loved all his dog friends, so gentle and patient with kids, and loving to all our family and friends. We truly underestimated how rewarding it would be adopting him and how much value it would add to our lives by doing so.
– Amy and Corey