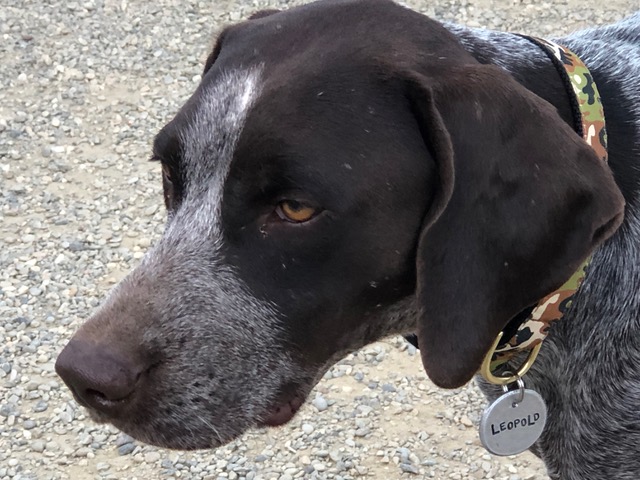 Leo (in his adopter's own words):
When Leo joined us, he had already been with two foster families since being rescued from a bad situation six months earlier. The behaviors he exhibited with those families were consistent with a dog who'd had very little socialization with people. We decided to foster Leo because we thought our living situation might give him the opportunity and structure to develop his "people skills". We own a dog day care and overnight facility. We live at our business, so it's all dogs all the time. Our dog, Tallie (formerly Tessie) is also from NorCal GSP Rescue. She joined us almost four years ago.
Our Dog Camp team of nine has given Leo the chance to get to know and become comfortable with different kinds of people. In his first three weeks with us, he went from hiding in the planter boxes on day one, to now coming up to anyone who will give him a back scratch or belly rub. He's gotten to love the couch in our living room, his stuffed racoon and his sister Tallie, whom he follows everywhere. During the day, he's quite the player in our big play yard having made two best friends – Jethro, a huge Mastiff and Silo, an Alaskan Malamute mix. It's great to watch the three of them rough and tumble and then flop on the barn floor for naps.
Leo came to us as a diamond in the rough – behind those big brown eyes, we could see his intelligence, his sweetness and his fear. With structure, love and lots of belly rubs, his smarts and sweetness have come to the fore and his fear has diminished. A beautiful confident dog is blossoming. We are so happy he found us.
Thanks to all who helped foster Leo, and thank you James and Sue for adopting him!