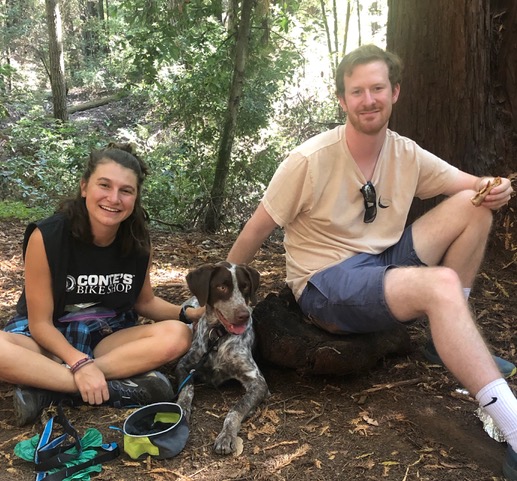 Five-year-old Harry was in big trouble. He'd wound up in a shelter that was going to euthanize him. But then, everything changed. Three sets of volunteers formed a caravan to transfer him from central California to a Bay Area foster home, where he would be safe. At first, he sniffed every inch of that home—acting as if he had never been in one before. As he became accustomed to his new environment, he relaxed and began to let his amazing personality show. He was gentle and very intelligent, quickly learning new skills. He enjoyed going out with his foster family but wasn't sure about strangers—until he met the couple who would end up adopting him. He seemed to welcome them.
Here's his new mom's side of the story: "I began my search for a rescue dog and my future best buddy on NorCal GSP Rescue's website and just scrolled through their foster dogs page. I read each of the little bios for dogs in foster care and I came across Harry. His picture first of all was adorable and his bio painted a picture of a loving, smart dog, who is a little shy. I immediately filled out the application form and requested more information on Harry. A few phone conversations later, a meet up with Harry was scheduled and I got to see firsthand what a great dog he is! Before meeting him, I was informed of his shyness and the protocol that is followed when introducing Harry to new people. The hardest part of meeting him was having to ignore him and not pet him until he warmed up to me. We went for a small walk and he ate treats out of my hand non-stop and continued to come to me for treats (he already knew I was a sucker for him). He showed us all his tricks like "sit," "down," and "touch". He also let us play fetch with him. Harry was so sweet, gentle, and smart that I knew I'd finally found my new best friend. His little quirk of being shy is something we are going to work on with love and patience. I am so excited to give Harry the happy home he deserves!"
Thank you Diane for fostering Harry!