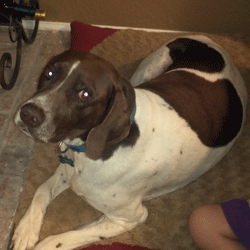 Our beloved Maverick crossed the Rainbow Bridge on September 23, 2014. I cradled his head, petting and stroking him. My husband and two girls pet him and showered him with kisses. All the while telling him how much we loved him and what a good, good boy he was as he softly fell asleep and passed on.
We had the good fortune of adopting Maverick just three short years ago. I still remember our first meeting. He was at a foster family's with two female GSPs, both younger than him. We met him solo and went for a walk and he was a natural with our family. The foster Dad commented on how well-behaved he was. When the foster Mom returned home with their two dogs, the older female grabbed Maverick's leash in her mouth and began leading him around. We were all laughing and commented that it was his sweet nature that allowed this.
Maverick filled our lives with so much joy, love and laughter. When we brought him home, he wouldn't walk into our house due to the hardwood floors. He slipped all over the place. So we had to buy small carpet circles. We called them his "islands" and placed them in a path on the floor. He would "leap" from island to island to make it around the house. A hardcore snuggler, if there was an inch of space between two of us on a bed, he would maneuver his 90lb body into it, resting his head on your chest or shoulder, and draping his legs across you. So cozy. He particularly loved snuggling with my husband and resting his head on his shoulder. So sweet! He and our girls loved each other deeply. He was generously patient with them. He's been dressed as a pirate, princess, the Mad Hatter, Bat-Dog, worn tutus and long wigs all with a debonair dash and an open tummy available for scratching. He would take turns tucking the girls in at night, moving from bed to bed for a long snuggle and then finally settling in with my husband and I. In his last months, he had taken to "perching" on a large ottoman in our living room. The girls would push this up to the couch and he would sneak his ample behind up onto it. So he could be on the couch, but not really….
He was our constant companion wherever we went. Yard work is a lonely affair lately as he would be with me everywhere, cutting the grass to weeding the garden. He loved the car, our morning walks, and visits to the water. He just wanted to be with us and we with him. It was a perfect combination.
His family was even larger than ours as he was a neighborhood fixture. Maverick would visit the four homes closest to us as part of his daily rounds. Each neighbor had a special treat for him and gave him lots of love and attention. Our immediate neighbor has a pear tree in his front yard. Daily, Maverick would steal a pear, or two, or three, from his tree and off the ground. He loved it and we'd smile as he'd stretch up on his hind legs to get that perfect pear a little higher up the tree. We all had a sniffle as we noted the pears now gathering on the ground.
We were all emotionally gutted as Maverick's passing came on so very suddenly. The vet, Dr. Schwartz at Sage Veterinary Clinic, was a rock. Thoroughly explaining what he surmised was a brain tumor and our limited options. His kindness and care affected us all deeply and provided us with the support we needed to make our difficult decision to say goodbye to Maverick.
Maverick, we hit the jackpot with you! Sweet, loving, affectionate and beyond devoted. We will miss you terribly. We know you are looking down on us with a pear in your mouth!
-The Hanna Family