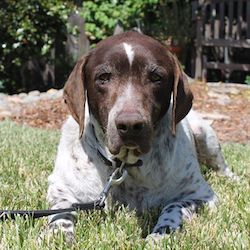 Dear Patterson,
It is with sad hearts and deep regret that we said goodbye to you yesterday our "big guy" and beloved family member.
Back in August of 2008 they all thought I was crazy when I thought we needed a friend for Lizzie. You had come to NorCal GSP Rescue group after an accident in which you got hit by a truck in Patterson, CA. The off duty firefighter that hit you and his people rallied around you and got you the help you needed to save your life. After losing your right rear leg they looked for your original owner but had no luck. When I saw your story on the rescue group page I knew we had to meet you. Instantly we fell in love and knew you would be a good match for our Lizzie who also is a tripod.
You arrived in our home with an unknown past. You were a sweet and innocent guy. You were full of life, unconditional love and affection. You always had a smile on your face and a wag in your tail. Lizzie welcomed you as her new best friend. We always told people we had a dog and a half since the two of you together only had 6 legs. You made the perfect pair.
You filled our hearts and home with so many memories over the last 10 years. Planting a tomato bush in an accessible spot was a silly idea once you came around, as you thought tomatoes were balls. I remember the first time you howled as a siren went bye. We thought you were a hound dog, not a German shorthair pointer. Your love for popcorn was endless. Then there were those times when you would get reprimanded by Mike and you would wait until he least expected it and pee on him. This always caught him off guard because you could do it so slyly without having to lift your leg. You had a thing for leather. We will never forget the night that we returned home to find Mike's brand new pair of shoes you so proudly left at the front door for us. When it came to the many pair of shoes you ate, you would always eat the left shoe and leave the right untouched.
In September of 2011, you were saved yet again after we found you in a lifeless heap one afternoon in the backyard. After an emergency trip to the vet it was discovered you had Addison's disease. Never once in the last 7 years did you ever complain that you had to have a daily pill and a monthly shot to keep you alive. Thank you for teaching us about living life to the fullest and to never take for granted a single moment. You were such an inspiration!
In recent weeks, we still got puppy kisses and lots of tail wags but you showed us that your body was starting to get tired and run down. We had some hard decisions to make about your health. It was sad to watch you be so uncomfortable daily. We knew no matter how hard we tried that the day was coming when we wouldn't be able to save you once again. Deep in our hearts, we knew it was your time to be free. Free of daily pills, free of monthly shots, free of pain and to be able to run free with all your legs again. You lived the good life as far as dogs go. We will never be able to thank you enough for giving us your all and loving us unconditionally, we will miss you always. We are beyond grateful that the Rescue chose us to be your family.
Goodbye, our handsome guy… If love could have saved you, you would have lived forever.
Jennifer & Michael Gile