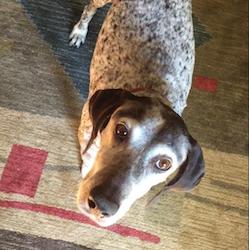 I'm convinced that Ruth found us . . .  A friend of a friend followed a dog rescue in Sonora CA that I became aware of through social media. I started following them. Months later, a courtesy posting with Ruth's picture appeared. She was beautiful! The owner was moving and could not take 11-year-old Ruth with her. Ruth was to be euthanized in just a few days if she didn't find a home. I decided I needed to help her. Never did I think we'd grow our family from 2 to 3 large dogs. But I had to help her somehow. I immediately began searching for a local rescue and found NorCal GSP rescue. I contacted them and within a few hours, they said they would rescue her, and asked if we would be able to foster her. I'd never fostered before but agreed. I needed to save her.
Arrangements were made with the owner to meet halfway for the transfer of Ruth to me and my partner Tom. Apparently, she had rarely been in a vehicle so we hoped there would be no issues. She didn't hesitate to get into our car. She was calm. She put her trust in us immediately. It was like she knew she was going home.
We went through the process of health checks and soon learned she had heartworm disease. The treatment regime was complicated, but we were up for the task. We also learned Ruth had no house training, knew no commands and had probably never been inside a house. We had to teach her how to walk through an open sliding glass door! She learned many things quickly. Within about 6 months, she was heartworm free. We adopted her. Was there ever any doubt?
Our experience with many larger dogs is they rarely live more than around 13 years. We expected maybe 2 good years with Ruth. Ruth was 15 years, 6 months old when she passed. We had 4 years, 6 months with her!! But it still wasn't long enough. She adored us as much as we adored her. We loved watching her do GSP things. She loved her long walks, chasing the squirrels, bees, anything moving. Once she was an indoor dog, she'd cautiously look out the door to check the surroundings before venturing outside. She always looked for me when I left the room. She always wanted to be with us.
We miss her so much, but we're so much better because of her presence in our lives. Ruth died in my arms. I wouldn't have had it any other way. It was the least I could do, considering everything she gave to me.
-John Holmes & Tom Connell