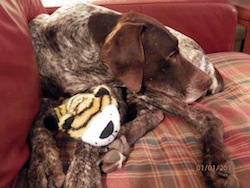 Today we put our sweet dog Tanner to sleep. He had a very rare and aggressive cancer called histiocytic sarcoma which had metastasized in his lung and in his groin. We tried chemo but it did not make him feel very good so we decided to let the illness run its course instead of putting him through chemo.  He hung on for a lot longer than we thought, having some bad days but also some very good days, filled with yummy food and trips to run off-leash at the dog park. Every time we thought it was "time" he would rally and have a very "normal" day with all the energy that at German Shorthair Pointer should have. But ultimately, the tumor in his lung caused fluid to build and for him to cough at night. Although we are so sad to let him go, it gives us comfort to know that he is no longer in any pain or discomfort and is probably playing with his brothers Cody (Viszla) and Jasper (GSP) in Doggie Heaven right now.
Tanner was from NorCal GSP Rescue and was approximately 2 years old when we got him. We do not know what his history was before we adopted him but all we knew is that we had an untrained dog who had not lived inside before and who had pretty severe separation anxiety. The first night after adoption, we invited him to sleep on the bed with us. It was clear he had never slept on a bed before as he proceeded to fall off with a "thud!" on to the floor. Not to be deterred he jumped back up and proceeded to the middle of the bed and stayed there the rest of the night. The next morning we woke to find him standing on top of our dining room table with his head in a bowl we left on the table the night before (this gives you an idea of how untrained this boy was!). He then proceeded to run full speed around and around the dining room table (several times). My husband thought we had adopted a monster! However, in the 11 years that we have had him as part of our family, he had blossomed into a very sweet, cuddly and very well-mannered boy who slowly lost his separation anxiety and was able to trust that his new family would not ever give him away. We knew we had won him over when he rolled over on this back to get his tummy rubbed!
We will miss this sweet mellow boy …the chowhound, the fearless, focused hunter that "stomped" on his prey (he did not have any finesse at all) who had that soft, pleading face that you could not say "no" to.  At the dog park, Tanner had an "extra gear"…he could run with the fastest dogs and then turn on the extra gear and speed ahead. It was quite amazing to watch.
I am sure he is chasing squirrels, running free and eating as much grass as he wants to without hearing the word "no". And I am sure there is a bottomless cookie bowl and toys as far as the eyes can see.
Enjoy your new-found freedom! R.I.P. sweet Tanner.– Diane and Jim Coward