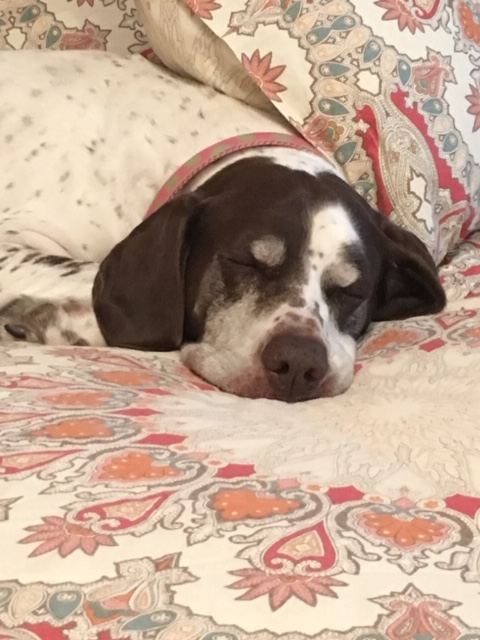 This is so hard for me to write, but I had to say goodbye to Coco, my companion, for the last 12 years. On November 1, we said goodbye at home in her favorite place right in front of the window with the sun shining in. She was the most amazing dog, such a fighter with both bouts of Cancer, and she never gave up. She was loved by everyone who met her, she was gentle, loving, and such a cuddle bug. Her favorite things to do were chase/stare down the squirrels on the back fence, go for walks downtown, and go to the dog park. Often times I was asked is she a greyhound because she could run so fast. She loved to ride in the car with her head out the sunroof and then there was all the attention she got because of that.
I would always say she should have been a model, she had long legs and big lips, and oh so beautiful. She didn't mind dressing up for the holidays, she was just a love.
We had a few foster GSPs over the years and she was like their big sister, always teaching them the ropes, how to get treats and a little extra lovin, oh and how to sneak into the bed when no one was looking (they were always on the bed when I got out of the shower).
My house is empty and she is missed every day. Thank you for allowing her to be in my life. She was the best dog I have ever had.
-Kim G.