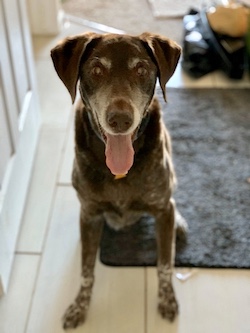 Our sweet Jake passed away very early in the morning on January 15th, 2020. We are all heartbroken, of course, but are also beyond thankful for having had him for 11 of his nearly 13 years of life.
We were enchanted by Jake the minute we saw him, in the spring of 2008. Well, I should say, my husband was, because he was the first one in the door at the foster home, and declared "We'll take him!" before the rest of the family had even seen the little guy! Thank you, Bill & Cheryl Reese, for the wonderful job you did fostering him as he was healing from having been hit by a vehicle and having his hind leg pinned and plated back together. You got him happy and healthy, ready to come to his forever home with us!
Jake was our first GSP. We had fallen in love with the breed through friends who had them, and, with how wonderful Jake made our lives, we now know we will always have a German Shorthair in the house!
Jake was an amazing dog. He had no bad habits to speak of, was affectionate, playful and regal all at the same time. He was always ready for the next adventure, walk, or game of fetch, but was also quite happy to lie at your feet and relax. Over the course of his life, he was fascinated by and investigated squirrels, raccoons, at least one opossum, jackrabbits, cottontails, and of course birds, birds, birds! And he was obsessed with large garden snails. Apparently, they make noise, because he would stand over them, nose almost touching, and cock his head back and forth as he listened. He even occasionally snuck them into the house, holding them gently in his mouth.
Jake made friends wherever he went. He survived being hit by a car, hypothyroidism, and Atypical Addison's Disease before cancer ended his life. We all miss him enormously.
-Ron & Suzanne Dailey