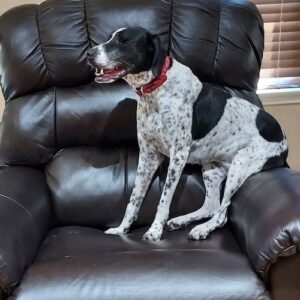 Quite unexpectedly, Louise wandered over the Rainbow Bridge.
At almost 12 years old, Louise remained young at heart, a lack of sight never once interfering with her zest for life. She fearlessly went swimming, kayaking, hiking, running through dog parks and participated in a multitude of charity walks. Unlike typical GSPs, Louise always came when called (well, 99% of the time) and had little to no prey drive. In fact, Louise preferred to snuggle with our cats, and was always the first dog to comfort our hospice foster dogs. She would have made the perfect therapy dog (Louise never met a stranger) if it wasn't for her continuous desire to get in your lap and then paw at you when petting ceased.
Cheese Louise! Ms. Weezy Pants. The next time you visit your local drive-thru coffee shop, raise a toast to Thelma and Louise (she LOVED Puppacinos); our beloved ladies have truly "driven" off together into their wonderful afterlife.