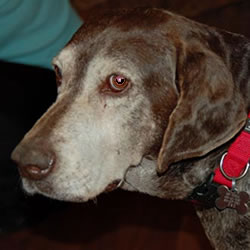 Oscar(Turbo) crossed the Rainbow Bridge on Thursday, February 18, 2010. Oscar was a loving and loyal member of our family. Even though he was officially a foster dog, we knew when we got him that he was approximately 14 years old and that he may never be adopted.
When he was young, he must have been striking because even at 14 he was remarkably handsome.
He loved to be petted and demanded to be present in the same room as his human roomates. Until recently, he would sleep in our master bedroom located on the second floor with our 4 adopted GSP rescues. Even as his hips started to lose full use, he insisted on going up & down the stairs. He enjoyed every minute of life and would toss his toys in the air then catch them and squeak them like a puppy.
Even though he was too old to alter, he immediately fit in with our 4 boys. He loved his daily walks and was social butterfly with humans and dogs he met on these outings. Many people showed interest in adopting until they discovered his age.
Well, the two years and four days with this valiant, sweet and gentle friend was our gain. Oscar, you will always be in our hearts and you were indeed a member of our family. Thank you.