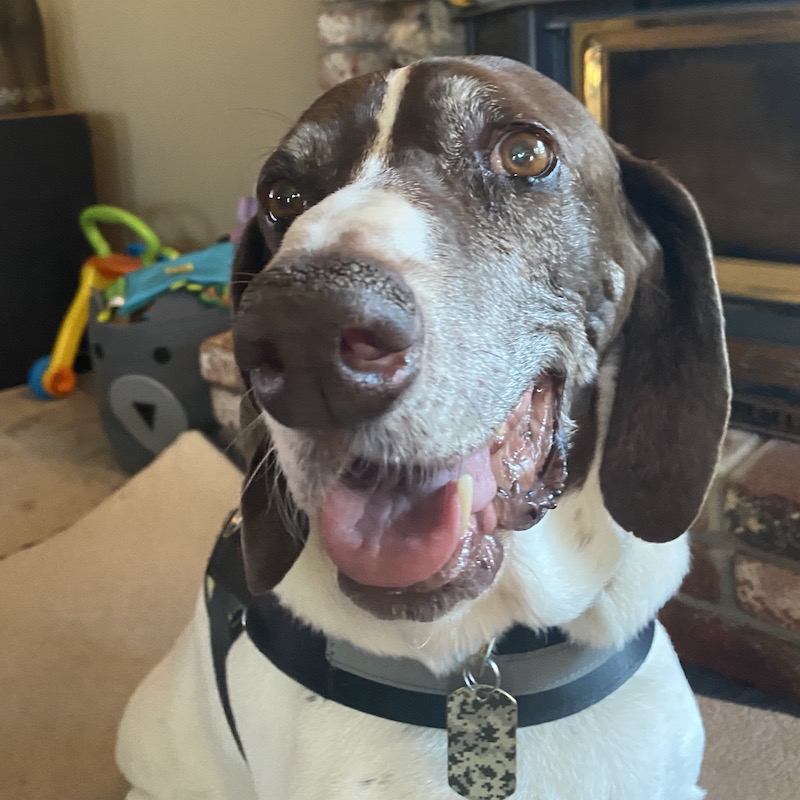 We had hoped for more time with Reggie (Reginald) but it was a sweet time nonetheless that we would not trade for anything.
My husband and I both have fond memories of having GSP's as part of our respective families as children.
When Reggie became a Lipowski, our goal was to give him the best retirement possible. Reggie was very stiff from arthritis but enjoyed his daily walks, where he would sniff flowers and see other dogs on our route.
The neighbors all enjoyed his goofy endearing smile and the way he plodded along in his booties to protect his hind paws from dragging.
As you can see by his face, Reggie was a loving, affectionate boy. He came to us as a senior citizen with some medical challenges, but no shortage of love to give, and the softest fur imaginable.
Even as his health began to decline more quickly and severely, he loved his pet time in the mornings with us.
We will miss this beautiful boy and hope his destination over the rainbow bridge has sweet-smelling flowers, delicious food to eat, and lots of love!
–Andrea & Jim