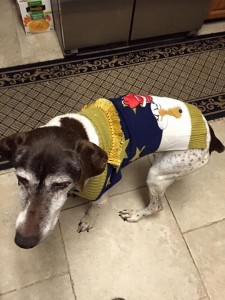 Vicki was found as a stray by Animal Control. Repeated notifications to the last registered owner went unanswered. The trauma of being in the shelter had Vicki not able to stand. Examinations by the shelter vet did not reveal a reason for her mobility issues. She was classified as PTS (put to sleep).
Our rescue was notified and I wanted to foster her and see if we can figure out her issue. The transportation volunteer went into her kennel with a leash and Vicki jumped up and walked to the car! After a 2 hour ride to us; she came in and paced for 2 hours without stopping. Apparently she had suffered something called "kennel madness." She quickly gained weight and claimed her dog beds. When another lay in her dog bed, she barked at them, no matter what time it was. Rosie would jump up and run outside when Vicki barked, lol. Vicki tolerated other dogs but didn't initiate any touching; Shelby did! She was not demanding of attention; she would approach to get a head rub and would continue on her route. She did laps often; from the living room to the kitchen through the pantry to the dining room back to the living room. We called it Vicki's circuit. My mother in law was here recovering from a severe surgery, would get up and follow Vicki doing laps to get her exercise. It was so funny watching them both doing laps at the same slow speed too! After 13 months with us; her mobility in her hindquarters caused us to help her with the transition.
I highly recommend fostering or adopting a Senior, they are so mellow but have the funniest personalities. They are incredibly grateful for the comfort and love we offer them as many seemed to have never been allowed in the house and had regular meals.
-Carol and Mike