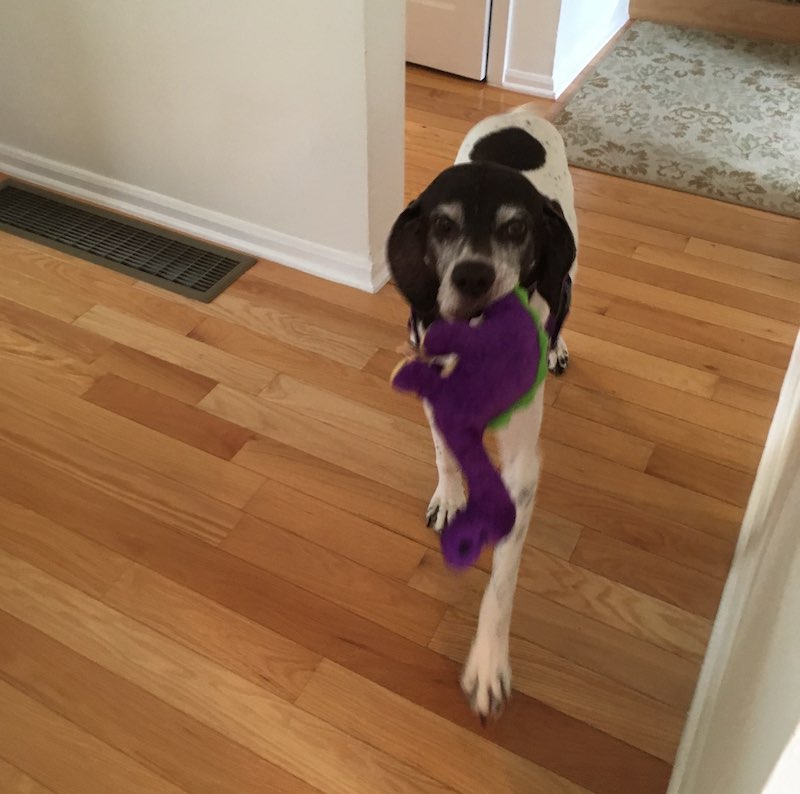 Lucy, formerly Lucille, passed to Rainbow Bridge on November 20, 2021, at age 14. I lay on the floor and gently helo her and spoke softly as her vet sat on the floor with us. My sweet girl had been suffering from old age and major mobility problems, arthritis, breathing difficulty, and multiple benign tumors.
Lucy made herself at home right away on her first day with me. She was my buddy for three and a half years. Lucy answered to Lucy Belle, Lucy Goosey, and Toots! She was deeply loved and prior to her health issues had enjoyed walking in any kind of weather wearing her hot pink raincoat with the black racing stripes. She "rocked" that coat.
She loved her toys – especially her purple dinosaur and green crocodile. Lucy had a particular fondness for Fiji and Honey Crisp apples, cheddar cheese, and Costco's canned chicken. She magically appeared in the kitchen upon hearing the can opener!
She enjoyed going to doggie daycare a few times a week to socialize with the gang! Lucy loved her home, her yard, and her upstairs and downstairs beds (and oh did she snore!)
I miss her sweet quiet gentle presence in the house but I treasure all the times we spent together and I miss kissing her velvet ears.
Her ashes will be laid to rest next to my other four pointer kids – Charles, Hannah, Rory, and Skye.
–Catherine Tumilty