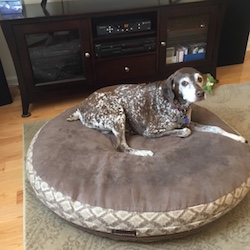 Skye passed to Rainbow Bridge at 12:59 am on January 4, 2018, at home at the age of 11. I held her as she left me. Last year she was diagnosed with arthritis, benign tumors on her liver and spleen, and liver failure. Her vet and I kept her comfortable with medication but we knew it was a matter of time.
She was a gentle mellow soul and loved her people, her doggy friends, her yard and house. Skye loved walkies, treats and her many dog beds around the house. She groomed herself like a cate – she was the cleanest GSP I ever had. She was nicknamed "the princess."
Skye greeted everyone at the front door with one of her many toys in her mouth. Once you got inside she'd get you to follow her to the den and then stare at you to demand a doggy treat. I miss her bouncy walk and lying on the kitchen floor to eat her meals.
Some glorious summer day, she'll be laid to rest under the statue of St. Francis in her yard. She'll join the rest of my pointer kids, Charles Beauregard, Hannah, and Rory.
I only had her in my life for about three and a half years – but every day that she graced my life was a gift.
-Catherine T.